Body & Paintwork
Monceau Automobiles does the full 'end-to-end' restoration process in-house: from documented dismantling of the vehicles to all body repair, welding, pre-paint preparation and final paint application. After dismantling each car will be chemically stripped of its old paint to the bare metal shell. The body repair process consists of meticulously replacing old body panels that cannot be salvaged or repaired, removing dents in other areas and welding new metal sheets in formerly rusted parts of the body. This is often the most time consuming part of a restoration, but will ensure that the rest of the new layers of underpaint and paint are at the correct minimal thickness. When the body is repaired, it will be submerged again for complete derusting and a full KTL coating, before the process of the pre-paint preparation and ultimately the actual paint color and clear coat layers are applied.
Body reconstruction
Repairing rust and past accidents or other damages is crucial for maintaining structural integrity and safety of your future electric classic car. Derusting and solid base coating are the prerequisite for the pre-paint phase. A minimal thickness and quality of the pre-paint layers ensures a perfect final paint job.
Exquisite paintwork
Professional paintwork is the epitome of automotive aesthetics and protection. It encompasses more than mere color application; it's an art form and a science, merging precision with creativity. It demands meticulous surface preparation, color matching, and expert application techniques. The result is a finish that's mirror-smooth, free of imperfections, and radiating with luster.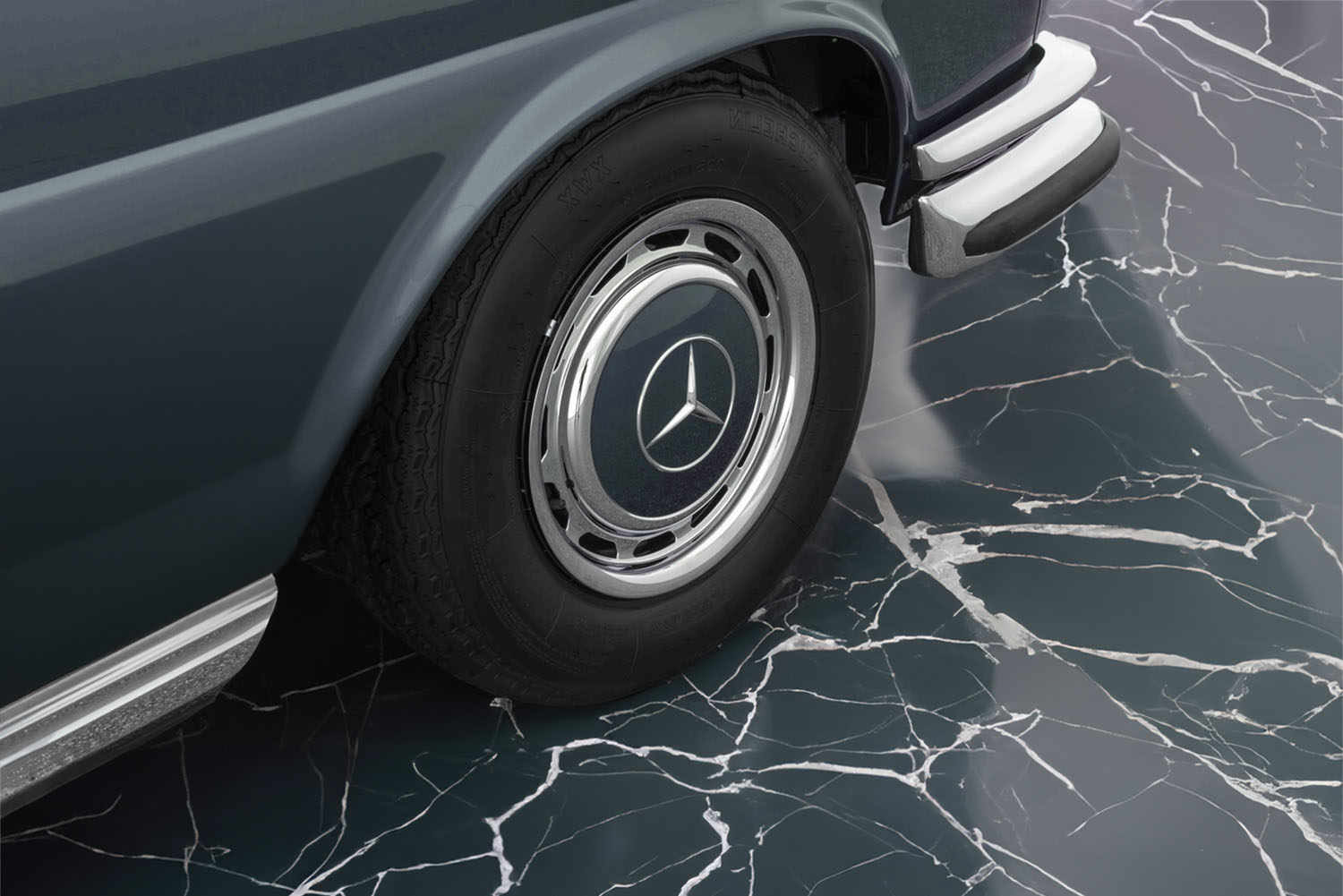 Chromework
Re-chroming parts for Monceau electric classics is a meticulous and intricate process. It starts with cleaning the item, followed by removal of the old layers of chrome, copper and nickel. For a pristine chrome finish, the process entails re-buffing, cleaning, and re-dipping, along with multiple types of nickel and copper plating before the final chrome plating is applied. The part is then polished to eliminate blemishes and scratches. Re-chroming is a very expensive process, but it's a vital part of the looks of your electric classic and therefore the visiting card of any good restoration.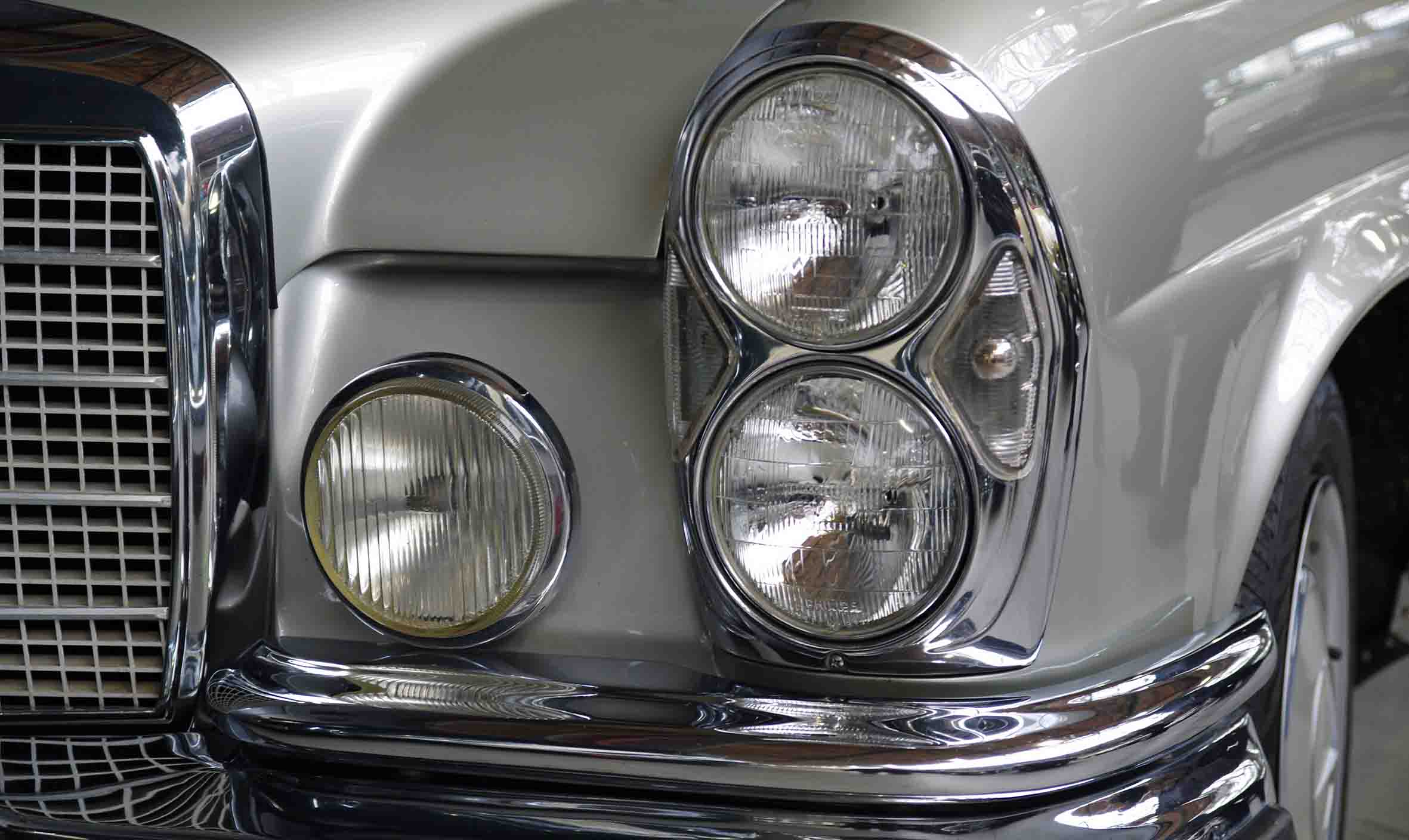 Bespoke Interiors
All your individual wishes will be granted when designing the interior of your Monceau electric classic. You decide according to your personal style and taste, choosing from a variety of high-quality materials and colors to create a customized combination and configuration that suits you. Whether it's leather, carpet, or veneer, we dedicate ourselves to every little detail, bringing your ideas to life through precise craftsmanship, calmness, and care, ensuring your complete satisfaction. Your dreams are brought to life and transformed into exclusive masterpieces by us. Comfort and practicality are also at the forefront of our specialists' focus when designing the interior. Other examples of interior features include electric windows, seat heating, air-conditioning as well as Bluetooth connectivity, handsfree calling and USB connection on your sound system of choice.
Wood & Veneer
Wood veneering refers to the glueing of thin slices of -what is often exotic- wood to a core panel of a more practical wood type. Mainly in the case of a W111 Monceau eSE there is a lot of beautiful woodwork in the interior. We preserve as much of the original pieces of wood as possible and bring it back to its original luster. You can choose from a wide range of wood types from Zebrano to Oak or Burr Walnut, to name a few. For the W107 models we can offer also a wide range of veneers or other materials to create your bespoke interior finish, matching the rest of the cockpit.
Made-to-order
At Monceau Automobiles we find your dream electric classic and make it yours for life. All donor cars are selected carefully based on your preferences and chosen model. All cars are restored to the highest standard and completely created to your individual wishes. You can choose any vintage Mercedes color you like, from 419 Ikonengold to 501 Orientrot or 931 Magnetitblau. The Interior will be fully redesigned and retrimmed with the finest materials, matching your dream paint color.
INQUIRE NOW
REQUEST A BROCHURE
The latest news