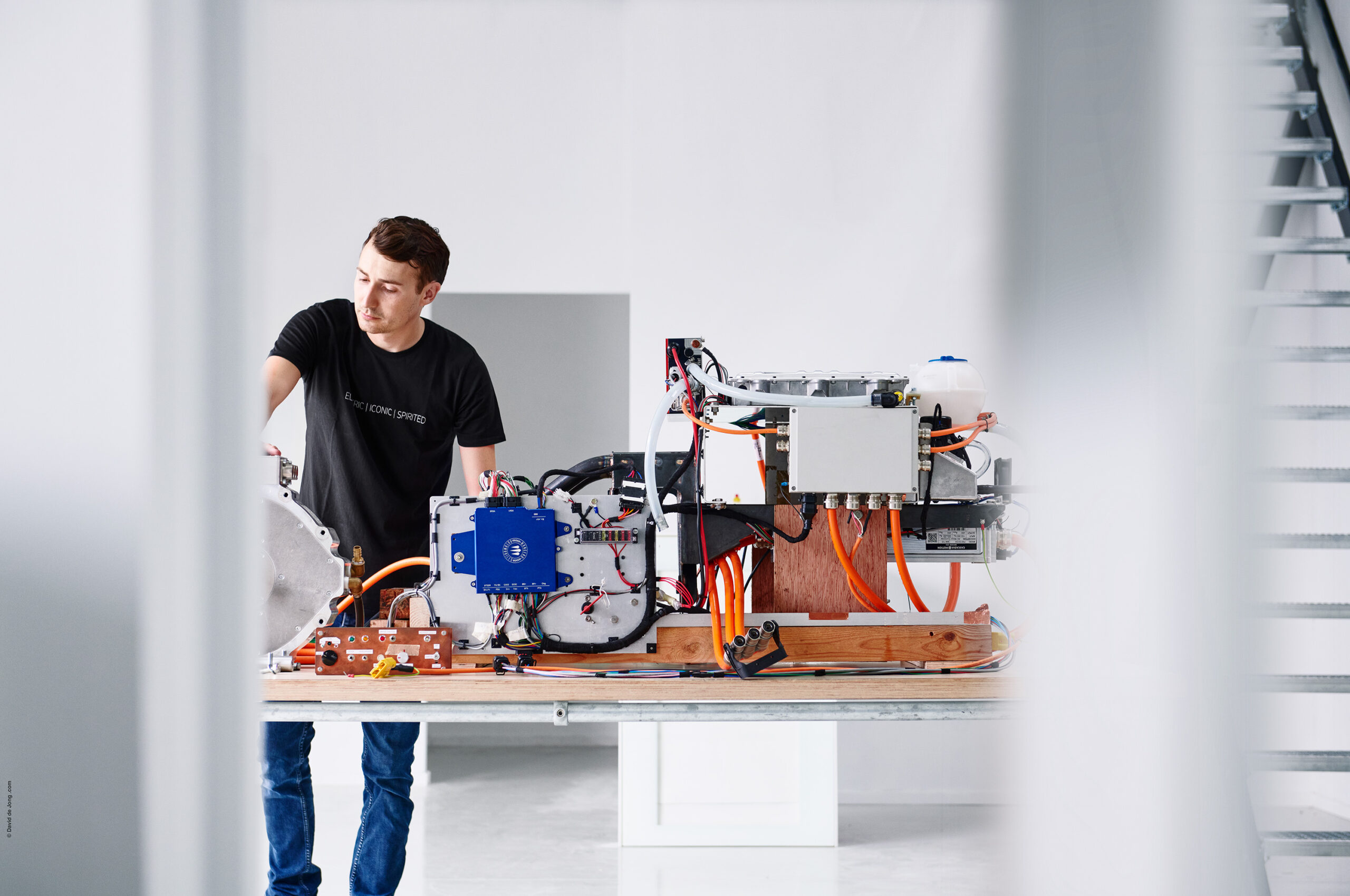 Drivetrain & Vehicle Control
Only new & high-end components
We have re-engineered our electric classic cars by selecting the best possible components that are available and that meet our high standards and specifications. If we cannot find the correct component, we design it in-house, like custom brackets, enclosures, support mounts, etc.
All components are brand-new, so we don't recuperate Tesla, Leaf or any other parts from-often-crashed or damaged OEM cars.
Last but not least, all of our main components are from high-end suppliers from Switzerland, Germany, Belgium, The Netherlands and the United States.
Our Monceau proprietary drivetrain fits both the Mercedes-Benz R/C107 and W111 platforms.
Vehicle Control Unit
A vehicle control unit (VCU) in an electric car serves as the brain of the vehicle's propulsion system. It monitors input from numerous sources, including the accelerator pedal and regenerative braking system, and processes data to control various aspects of the car, such as speed and torque. It also communicates with other vehicle systems, such as the battery management system, to optimize energy efficiency and extend range.
The VCU is responsible for ensuring overall safety and optimal performance of your Monceau electric classic car.
Suspension & braking
Although we build modern electric vehicles, we constantly aim to keep that all-important classic car feel in each of our creations. Our drivers still have the feeling of driving a vintage classic car. Therefore we keep as much of the original suspension as (safely) possible. Due to slight changes in weight balance, we re-design springs and upgrade to model specific Koni shock absorbers.
Depending on the model we also upgrade the brakes, while regenerative motor braking helps improve your braking distance considerably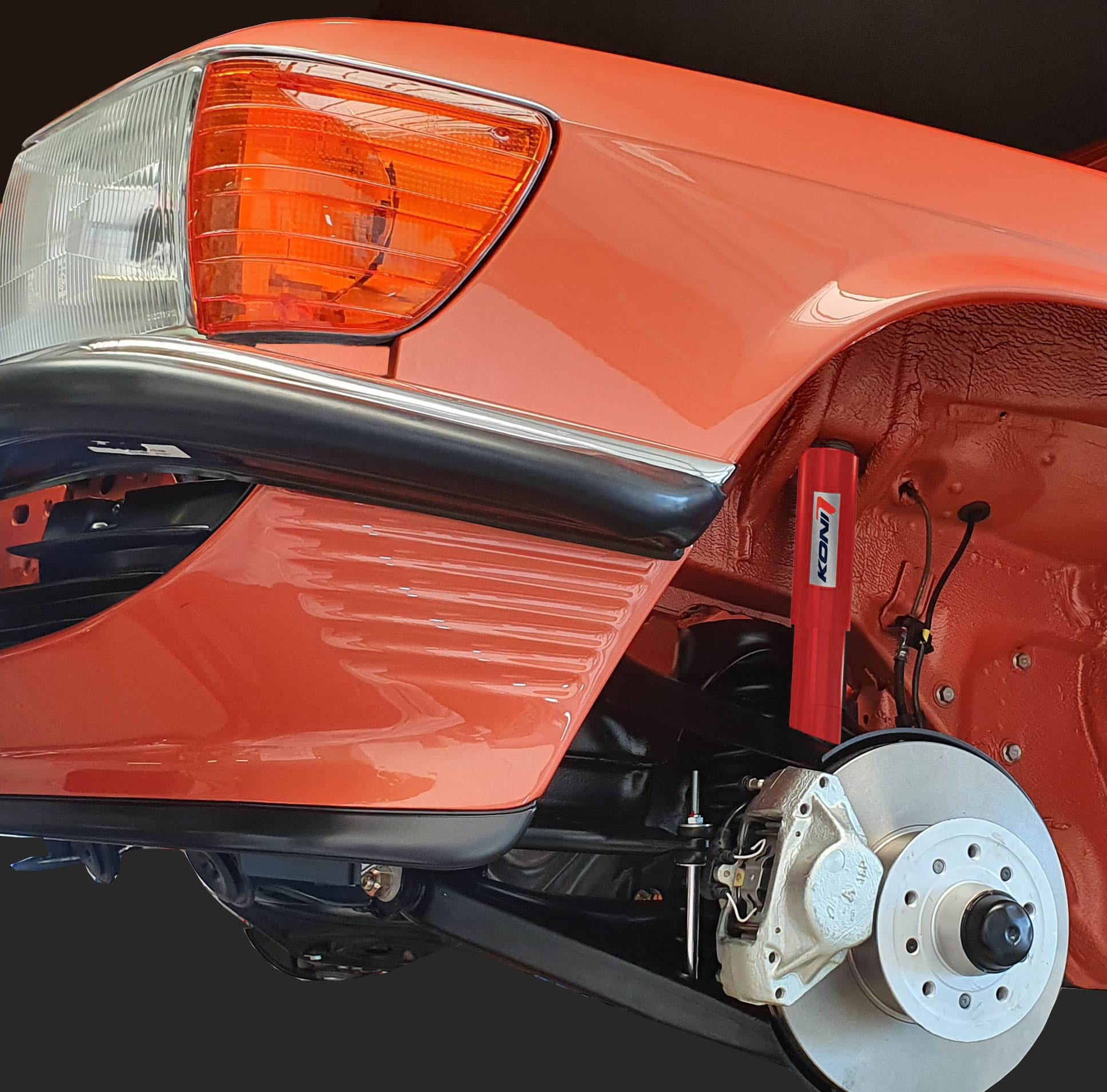 High-performance Powertrain
We have selected an electric motor that is able to provide 200 BHP and a peak torque of 600Nm, which is (much) more powerful than the most powerful vintage gasoline-engined Mercedes-Benz V8s! This allows an acceleration of the car from 0 to 100kph in less than 8 seconds for our eSL/eSLC (W107) and a bit more for the eSE (W111) classics. We use a Permanent Magnet Axial Flux motor as they offer the highest power density available on the market at a very low motor weight.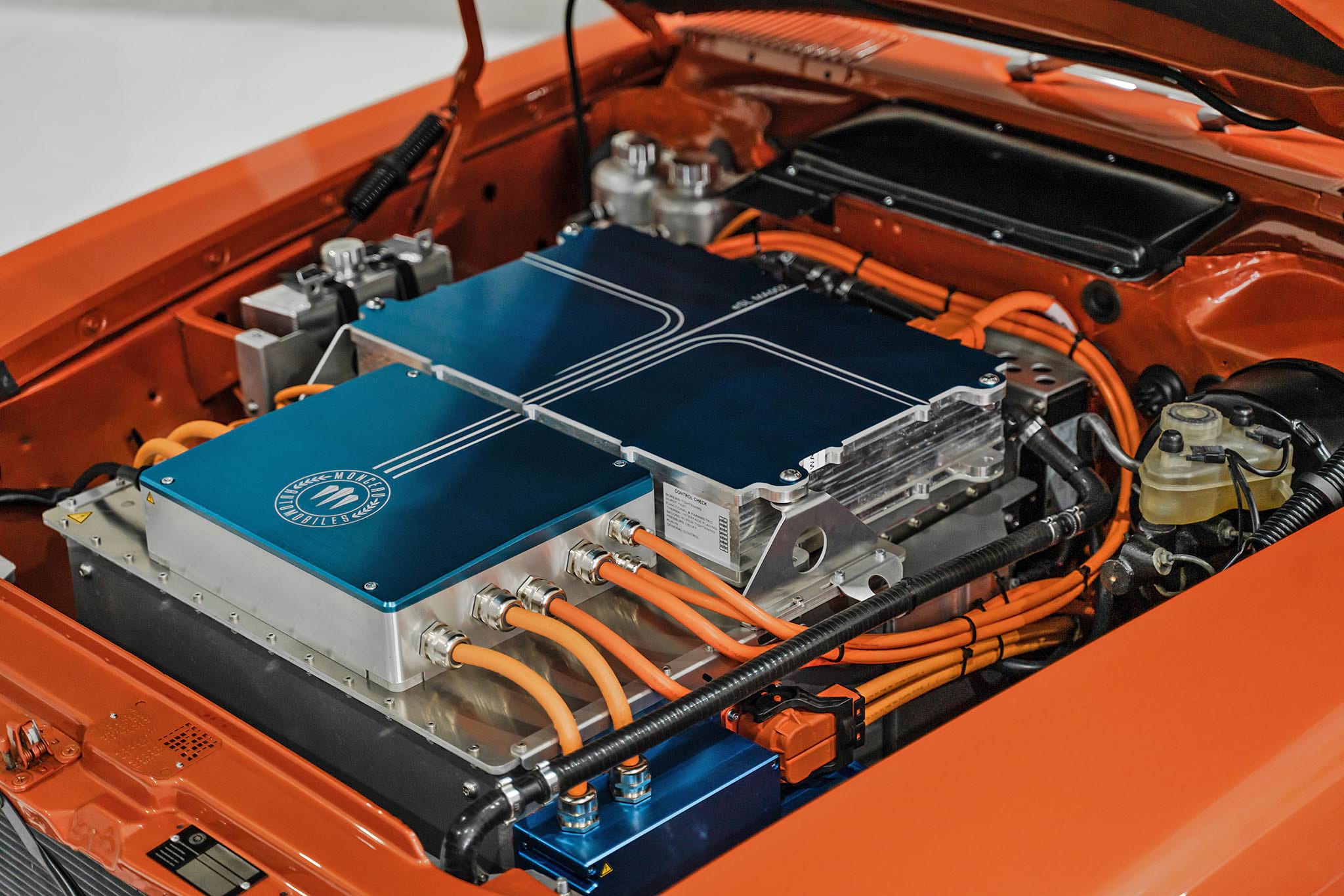 Liquid Cooled Battery packs
Made to measure modular battery packs, custom made for every Monceau classic we build. We use high performance vehicle battery technology from Power Battery to create the best solution in the market, suited very well for our electric classics. In order to deliver the necessary current for fast acceleration and an adequate top speed, all our battery packs are equipped with a patented liquid cooling system. Battery packs are standard 52 kWh and can be optionally extended to 56 kWh.
Battery Management System
Our battery management system-developed in-house together with our partner TeKshift-monitors the health, temperature, and charge level of the battery. It controls the charging and discharging of the battery, ensuring it is always at an optimal level. It also prevents overcharging or undercharging, which can damage the battery.
With our state-of-the-art technology, you'll enjoy smoother and spirited driving, longer battery life, and peace of mind knowing your car is always performing at its best.
Charging
Our sophisticated charging system allows your Monceau Mercedes classic to charge up to 80% in about half an hour. The charging process involves the use of a Combo Charging System plug, which combines both AC and DC charging in one plug. The DC power enters the battery pack directly, by passing the onboard charger. We can supply both Type 1 (USA/Canada) and Type 2 (EU) plugs and charge up to 80 kW.
At home, normal charging requires your electric classic to be plugged into a charging station with a normal power outlet. The onboard charger converts the AC power into DC power to charge the car's battery pack. The charging time is obviously longer than fast charging, but you will often have much more time. Depending on your home connection and your location, charging can be done between 3,7 and 22 kW.
Comfortable distance
Our real-world range is between 250 and 320 kilometers, depending on the battery pack size and the model. A comfortable distance even for day-to-day usage. In case you intend to drive a longer distance than the range allows, CCS fast charging lets you charge your Monceau classic at a comfortable speed of up to 80 kW, charging an additional 100 kilometers extra range in 15 minutes.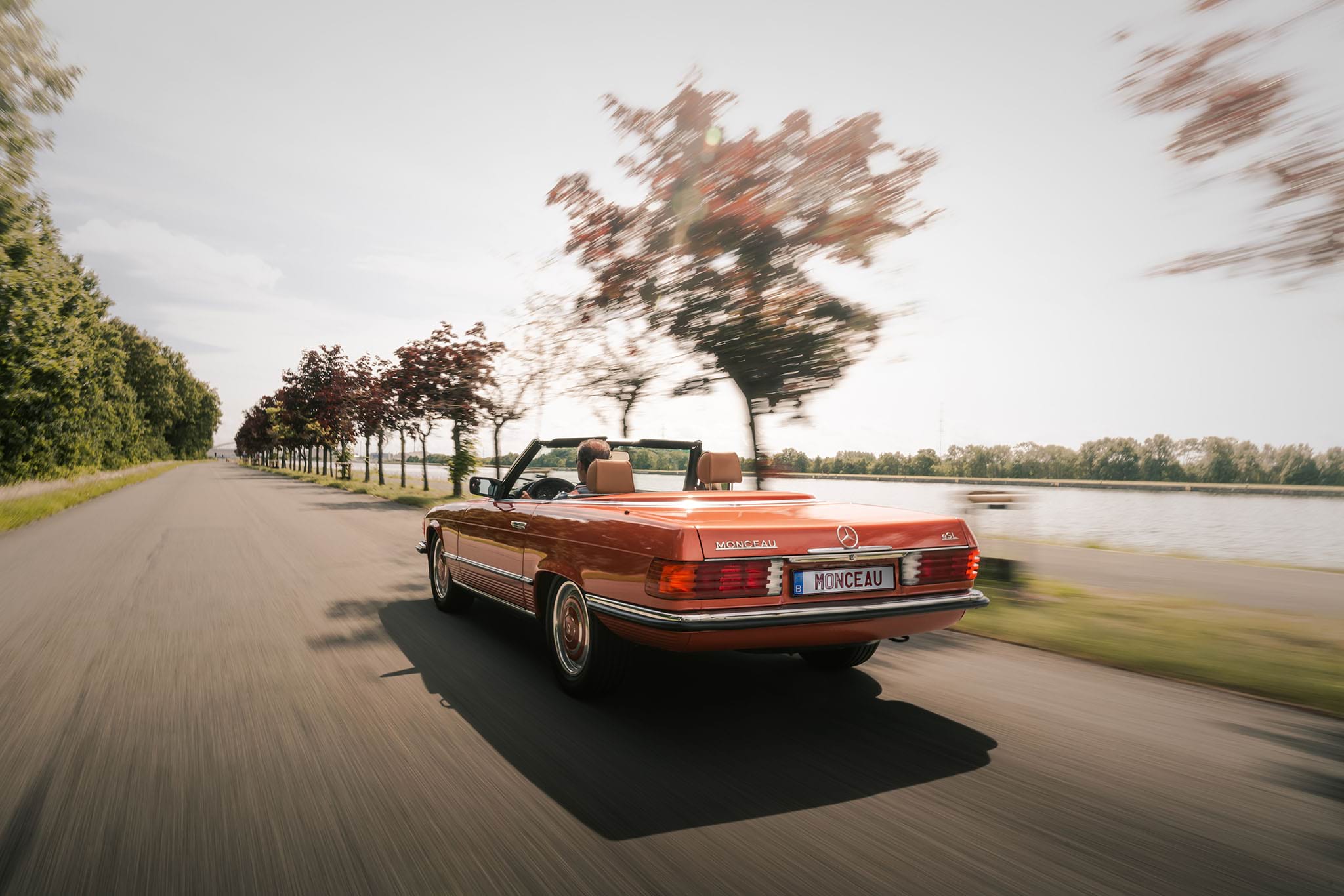 Dashboard
Dashboard
The vintage dashboard is often the key feature of any old-timer's interior, but it's not very compatible with the modern electric drivetrain. To simply upgrade it with digital screens would also be a shame, losing the character of the vintage dashboard in the process. Therefore Monceau Automobiles completely re-engineers and rebuilds the vintage dashboards, integrating all connection with the new electric drivetrain, but preserving the vintage look and feel. At a glance you will not see much difference, but in detail it's a massive change.
The best of both worlds!
On-board media
Although a good sounds system and modern media screens are a very common item in a modern vehicle, in classic cars it's not a matter of course (and never has been). Same as for the dashboard, we'd like to implement on-board media in an inconspicuous way. We find all kinds of solutions so you can still listen to Beethoven, Frank Sinatra or AC/DC in a good sound quality or call a loved one hands free while being on the road. We can also add custom-made solutions specifically on client wish.
Vintage Spotify
Think of it as an old Becker Europa radio on steroids. We can install a fully in period Becker radio into your Monceau electric Mercedes classic with a full internal modernization including 4 channel sound quality, a modern Bluetooth connection for Spotify streaming via your mobile phone and even handsfree calling. Combine that we a nice set of modern speakers and you will have a great sound experience without the intrusive noise of that old petrol-engine.
Made-to-order
At Monceau Automobiles we find your dream electric classic and make it yours for life. All donor cars are selected carefully based on your preferences and chosen model. All cars are restored to the highest standard and completely created to your individual wishes. You can choose any vintage Mercedes color you like, from 419 Ikonengold to 501 Orientrot or 931 Magnetitblau. The Interior will be fully redesigned and retrimmed with the finest materials, matching your dream paint color.
INQUIRE NOW
REQUEST BROCHURE
The latest news