Hate it or love it!
Hate it or love it! There is not much in between when it comes to the Mercedes-Benz SLC. With the quirky yet iconic louvre windows and the stretch wheel base as opposed to the SL roadster, the SLC is a remarkable coupe to say the least. Monceau Automobiles electrified this eccentric coupe and turned it into a zero-emission but spirited driving experience.
Monceau Automobiles turned the C107 into the electric Monceau eSLC sports coupe. It's a very usable but remarkable four person sports car for owners with an avant-gardist taste in life. Use it as a daily driver or for pleasure trips, this car will never disappoint and is in meanwhile rarer than a Ferrari or Porsche sports car.
Prices start at 229.000 Euros excl. taxes for a complete Monceau eSLC build, including donor vehicle, full bare shell restoration and the Monceau proprietary electric drivetrain.
INQUIRE
Request a brochure
Technical
specifications
Standard Battery:

52,3 kWh Lithium Ion liquid-cooled

Peak Power:

147 kW / 200 BHP

Transmission:

Direct Drive with 3.92 differential, RWD

Charger :

AC up to 22 kW / DC 80 kW CCS fast charging

Upgraded Battery (optional):

56 kWh Lithium Ion liquid-cooled

Acceleration:

0-100 km/h: 7.8 sec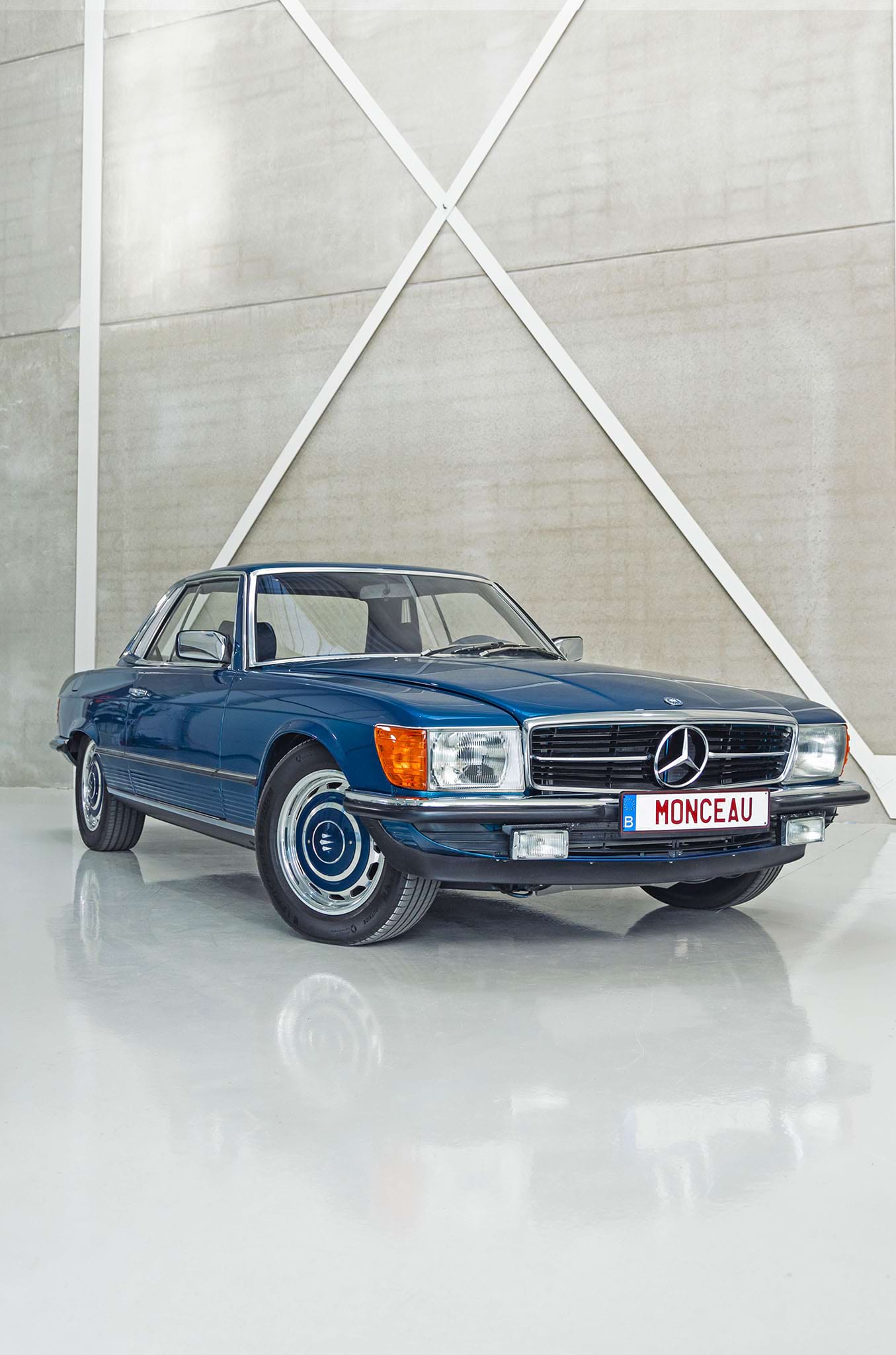 Oberklasse
The C107 replaced the W111 Coupe in 1971. The W111 belonged to the 'Oberklasse' of Mercedes-Benz. Although the production of the W111 sedans (the renowned Fintails) ended in 1968, the W111 coupes and convertibles were built until 1971, when the C107 was introduced to the market. Mercedes-Benz considered the C107 as a 'sports car'. It was the first and last time that Mercedes-Benz based a coupe on a roadster platform, instead of a sedan from the 'Oberklasse'. The C107 was succeeded in 1981 by a much larger model, the SEC coupe, which was again based on the limousine model the S-Class W126. A total of more than sixty thousand SLCs were produced of which - in contrary to the R107 SL - less than one third were exported to America.
INQUIRE NOW
REQUEST BROCHURE
Coupe based on Roadster
The C107 SLC is one of the only sports coupes we know that was based on a roadster model. Early seventies the R107 was launched still without a coupe sibling. The new S-Class (W116) was already developed, but Mercedes-Benz did not chose this new sedan as basis for the high-end coupe, but rather the R107 roadster. To our knowledge this is the only sport coupe that was ever derived from a convertible car, instead of the other way around or from a four door sedan model. This choice in design also gave us that much debated louvre window. Because the Mercedes designers wanted wind-down windows for the rear passengers, they had to split the window in two and come up with a visually appealing C-pilar. Hate it or love it, but it's an eccentric solution for a special car.
Interested in a Monceau eSLC?
Together with the Monceau team we create your own personalized Monceau eSL. From custom paints to beautiful interior fabrics or leathers.
You name it, we create it.
REQUEST MORE INFORMATION