All Benzes of Palmen barn find
The same as the opening of Tutankhamun's tomb
MAY 28 - 2023
A full-on barn find is for car enthusiasts the same as the opening of Tutankhamun's tomb. Earlier this year, the mother of all barn finds was uncovered in the Dutch town of Dordrecht. And this weekend, Monceau Automobiles was there to show you all the Mercedes-Benzes of the collection Palmen. And of course to scout for potential donor cars to convert into an electric classic car by Monceau, but that depends on our findings and the running auctions. Read the report below.
A bit of history
Before the discovery of this huge barn find, the complete collection was unknown to the world. The collection of cars belonged to a Dordrecht entrepreneur known as Mr. Palmen, who began amassing his impressive collection four decades ago. These vehicles were stored in two different halls and even in a church. However, due to personal circumstances and demetia, Palmen could not care for himself anymore, nor for his collection. Consequently, Gallery Aaldering recently acquired this remarkable assemblage, which is rumored to be one of the most extensive barn find collections globally.
How many cars are there?
Are you sitting down? Mr. Palmen enmassed a private collection of in total 230 classic and exotic cars! Often in such a large barn find, there are a lot of very regular cars and often very poor cars, but not in Mr. Palmen's collection. Off course there are also some cars in a terrible condition (the ones for example that were stored outside) but about 80% is very presentable and often with no rust or very limited rust. Secondly the quality of the collection is mind blowing: a lot of special Italian cars from Alfa Romeo, Fiat to Lancia, from the last brand the gem of the collection was stored for decades: a Lancia Aurelia B24 Spider America from 1955 with an estimate up to 875.000 Euros. Also more high-end brands are present, a Ferrari 365 GT 2+2, a 400i, a Lamborghini Espada, ten Maseratis, two Iso Rivoltas and even a de Tomaso Deauville. Next to Italian beauties, the collection also houses Rolls Royces (notably two Camarque coupes), Jaguars, Alvis, Bristol, Jensen, AC Aceca and two Aston Martins. From France a lot of Facel Vega cars, a Matra Bonnet Djet, Simca and a very special Monica 560. A lot of American beauties, but it's just too much to state here.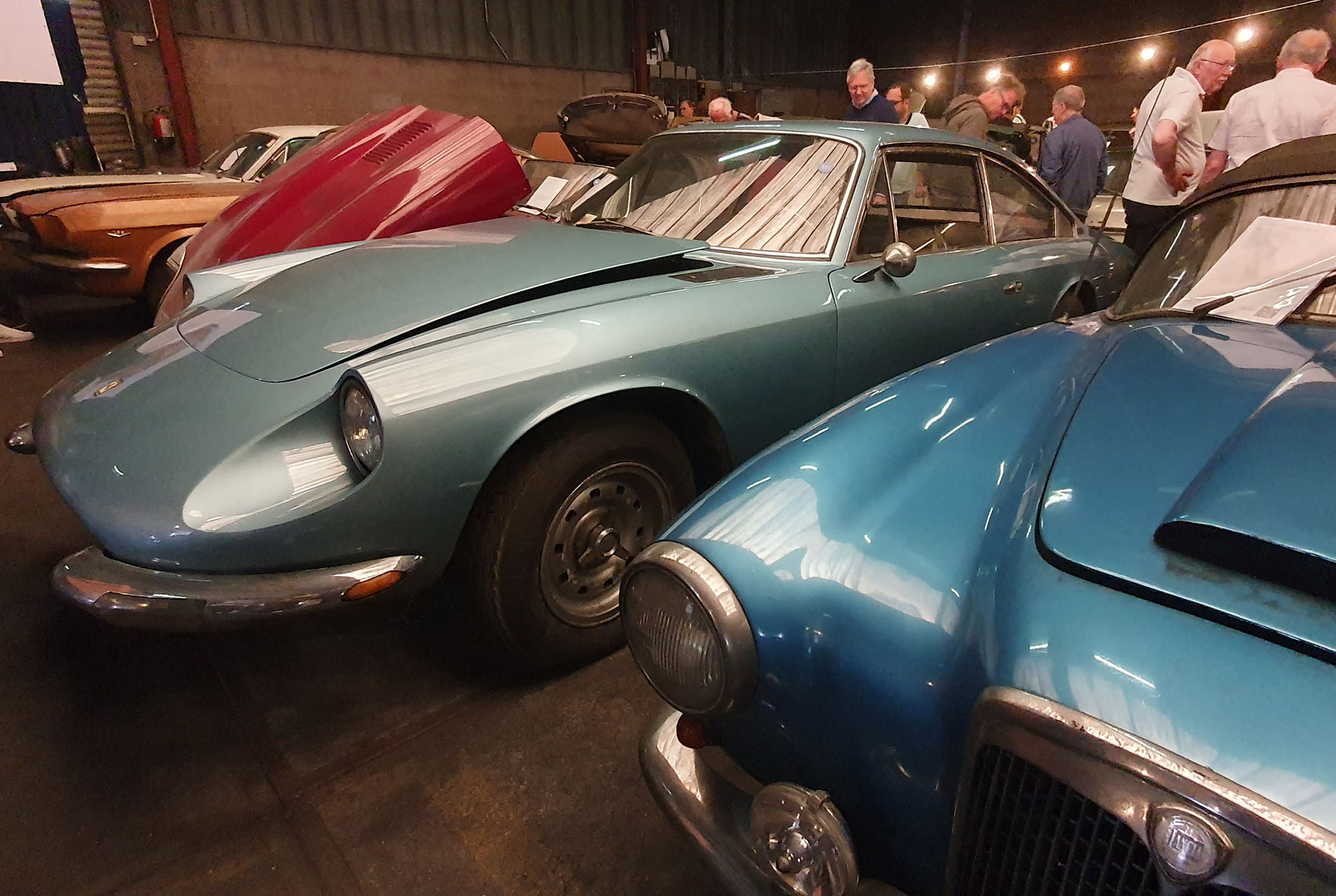 And now the Benzes of the collection!
Strangely enough Mr. Palmen was not very much into German cars, there is e.g. not a single Porsche in this vast collection, nor an Audi, Opel or something from more obscure or older brands like Borgward, Wartburg or Bitter. There are a couple of BMWs, an NSU ro80 and only two VWs. Except for Mercedes-Benz! If you don't count the very beat-up Vito outside, there are eight Mercedes-Benz classics in the collection, so let us talk you through all of them from young to old:
Mercedes-Benz 280 SL R107 from 1979
Mercedes-Benz 280 SLC C107 from 1976
Mercedes-Benz 450 SL R107 US-spec from 1974 (estimated, no documents)
Mercedes-Benz 250 SE W111 coupe from 1965
Mercedes-Benz 300 SE W112 coupe from 1964
Mercedes-Benz 220 SE W180 Ponton coupe from 1960
Mercedes-Benz 220 A W187 convertible from 1955
Mercedes-Benz 300 S W188 convertible from 1953
Last one is the absolute highlight of the collection, as Mercedes-Benz (and even generally speaking) with a high (but ambitious) estimate of 550.000 Euros. The 220 A convertible is also a very unique creature with only 1.278 units produced between 1951 and 1955. This one being a late model in a beautiful two-tone livery. Not as unique and pricey as the previous two, but still very rare are the 220 SE Ponton coupe, the 300 SE W112 coupe and the French-first delivery 250 SE W111 coupe. All in a presentable condition, but still in need of restoration. Lastly the W107 models: two real barn finds are the 280 SLC and the 450 SL with flat tires and completely soot-covered, because of an earlier fire in a Corvette that eventually made the world aware of this collection. The US-spec 450 SL doesn't have any paper work with it, but judging from the small side mirror, steering wheel and VIN-tag we estimate this to be a late 1974 model (MY 75). It had an electrical / engine bay fire of some sort in the past and would therefore be ideal for a rebuild into an electric classic car by Monceau Automobiles! The youngest car is the 280 SL which is an average restored vehicle with a very ugly after market steering wheel. Below are some photographs we took to show you the cars (except for the 280 SL).
Auction closes early June
The auction is in three parts and closes on the 5th, 6th and 7th of June, bidding is open as we speak. Since we are currently into the retrofitting and rebuild to electric classic car of Mercedes W111 and W107 cars, we have some interest in both the 450 SL and the 250 SE coupe, so who know? Mostly bidding goes through the roof as soon as a car is called a "barn find", so let's see if sanity prevails over madness!